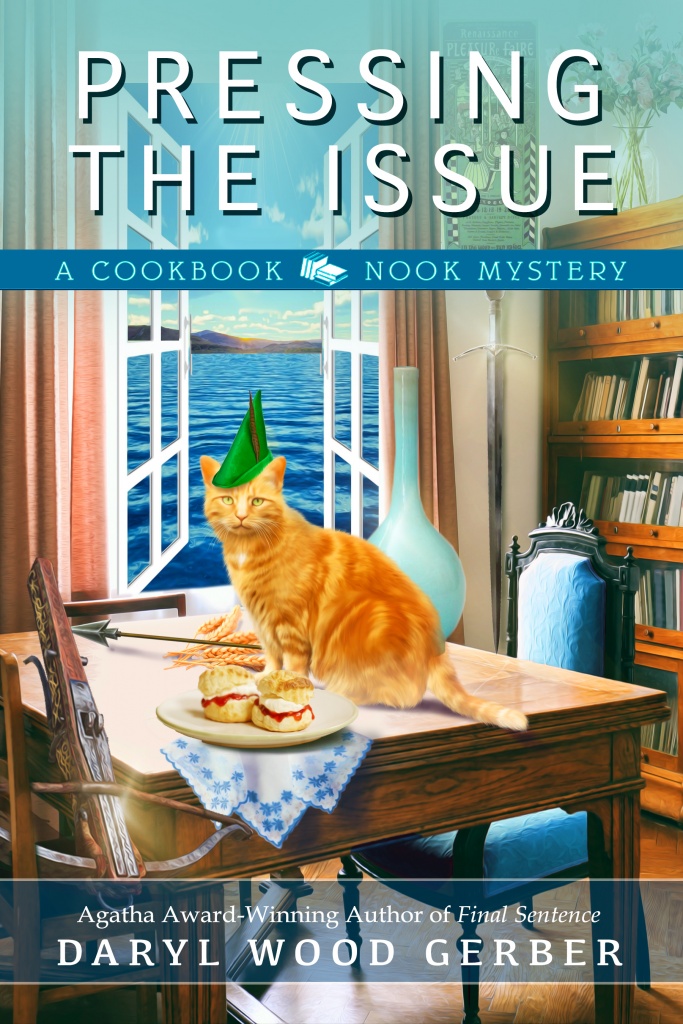 Pressing the Issue by award-winning author Daryl Wood Gerber is available for pre-order now!
The Agatha Award–winning author of Grilling the Subject returns to the Cookbook Nook in Crystal Cove, where the annual Renaissance Fair serves up a helping of crafty courtiers, damsels in distress, and medieval murder . . .
As the annual Renaissance Fair comes to Crystal Cove, Jenna Hart's Cookbook Nook is packed with tasty treats and all things medieval, while her pal Bailey is ready to swoon over her upcoming nuptials at a local vineyard. But when the two friends discover the body of the vineyard's owner bludgeoned by a winepress, all their merriment fades, along with their hopes for a vintage year.
Which churlish varlet did the deed? Was it the victim's errant brother, who stood to inherit the vineyards? Or the owner's crestfallen ex-girlfriend? Mayhap it was the newly arrived comely wench, or her jealous husband. Fie on them all! Verily, Jenna can't rest until justice is served, and she vows to track down the killer. But can she sniff out the truth before the villainous culprit strikes again?
Includes tantalizing recipes!
Praise for Daryl Wood Gerber and the Cookbook Nook Mysteries:
"There's a feisty new amateur sleuth in town and her name is Jenna Hart. With a bodacious cast of characters, a wrenching murder, and a collection of cookbooks to die for, Daryl Wood Gerber's Final Sentence is a page-turning puzzler of a mystery that I could not put down." —Jenn McKinlay, New York Times bestselling author of the Cupcake Mysteries and Library Lovers Mysteries
"In Final Sentence, the author smartly blends crime, recipes, and an array of cookbooks that all should covet in a witty, well-plotted whodunit." —Kate Carlisle, New York Times bestselling author of the Bibliophile Mysteries
"Readers will relish the extensive cookbook suggestions, the cooking primer, and the whole foodie phenomenon. Gerber's perky tone with a multigenerational cast makes this series a good match for Lorna Barrett's Booktown Mystery series . . ." —Library Journal
"So pull out your cowboy boots and settle in for a delightful read. Grilling the Subject is a delicious new mystery that will leave you hungry for more." —Carstairs Considers Blog
About the Author:
Agatha Award–winning and nationally bestselling author Daryl Wood Gerber is the author of the Cookbook Nook Mysteries, the French Bistro Mysteries, the Cheese Shop Mysteries (as Avery Aames), and stand-alone suspense thrillers. Little known facts about Daryl are that she's jumped out of a perfectly good airplane, has hitchhiked around Ireland by herself, and has appeared on an episode of Murder, She Wrote. She loves to read, cook, and golf, and has a frisky Goldendoodle named Sparky who keeps her in line!