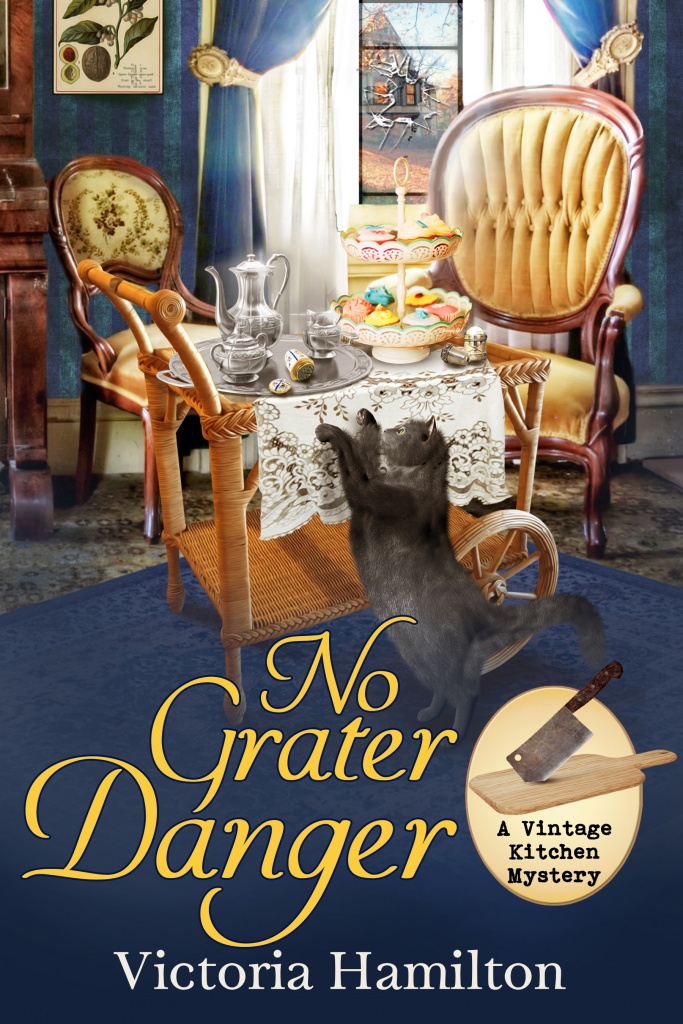 No Grater Danger, a new Vintage Kitchen Mystery, is available now!
In the new Vintage Kitchen Mystery from the author of Leave It to Cleaver, someone out to spice up their life means to crush a helpless victim . . .
"Delightfully entertaining, well-written, and an interesting and exciting plot. Literally keeps you guessing right to the end." —Goodreads on Leave It to Cleaver
Vintage cookware enthusiast Jaymie Leighton is thrilled at the prospect of meeting an elderly descendant of her town's founding father, not least because she's known to possess an enviably large collection of antique spice graters. But the curmudgeonly woman also has substantial real estate holdings, and at the moment she's engaged in a fierce battle with a property developer who wants her to sell off her old buildings in the name of progress. When Jaymie goes to visit the woman and discovers that there's been an attempt on her life, she polishes up her sleuthing skills to find out who was behind the foul deed.
Her first instinct is to suspect the developer, but as she digs deeper into the case she learns that her older new friend has purportedly been the victim of numerous criminal acts—all of which point to different suspects. Unsure if the stories are true or simply the confused ramblings of a senior citizen, Jaymie sifts through the clues hoping to expose the culprit, but she knows that if she keeps stirring up trouble, she'll be next on the would-be killer's list . . .
Includes a vintage recipe!
Praise for the Vintage Kitchen Mysteries:
"All the right ingredients . . . Small-town setting, kitchen antiques . . . and a bowlful of mystery. A perfect recipe." —New York Times bestselling author Susan Wittig Albert
"[A] charming new series." —New York Times bestselling author Sheila Connolly
"A chilling whodunit." —Richmond Times-Dispatch
"Well-plotted with several unexpected twists and more developed characters." —The Mystery Reader
"Jaymie is a great character . . . She is inquisitive and full of surprises!" —Debbie's Book Bag
About the Author:
Victoria Hamilton is the pseudonym of nationally bestselling romance author Donna Lea Simpson. In addition to the Vintage Kitchen Mystery series, she also writes the Merry Muffin Mystery series and blogs at Killer Characters. Visit her website at victoriahamiltonmysteries.com.