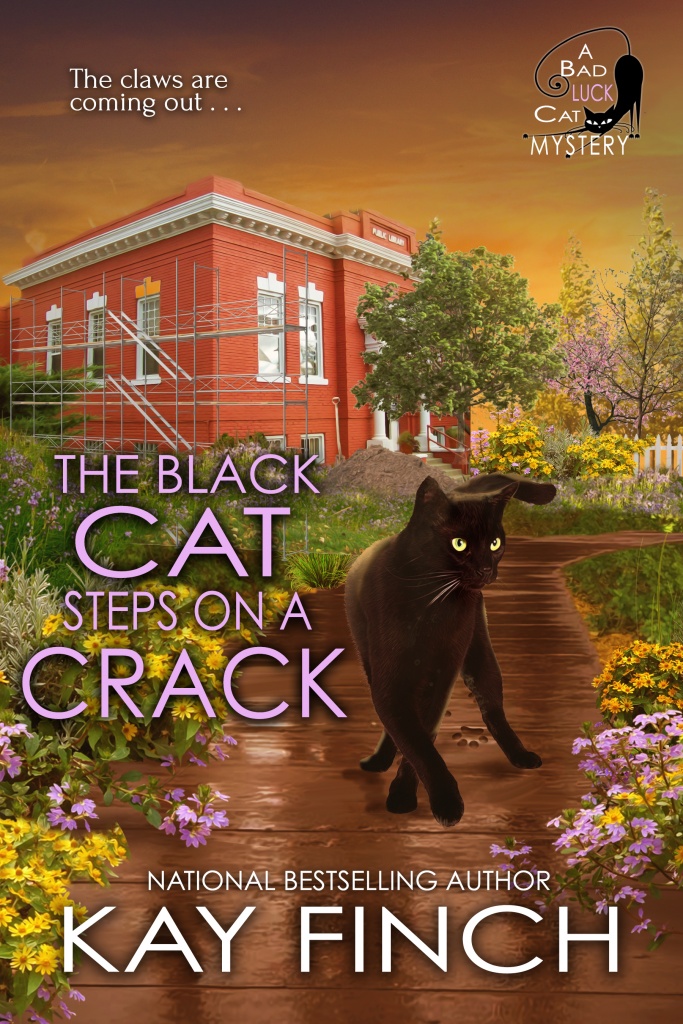 The Black Cat Steps on a Crack, the new Bad Luck Cat Mystery by kay Finch, is available now!
Sabrina Tate and her cat, Hitchcock, must sort through the clues when a librarian is killed and justice is overdue . . .
With construction on the town's new library nearing completion, mystery writer Sabrina Tate is thrilled that local book lovers, and her own forthcoming novel, will soon have a fresh new home. But tensions are rising at the site as the headstrong new librarian insists on telling the construction crew how to do their jobs, bringing work to a standstill. When Sabrina's cat unearths the dead body of the librarian not long after—and a good friend's husband is named as the main suspect—she finds herself being pulled into a murder investigation yet again.
While virtually all the workers at the site had a motive to commit the dark deed, Sabrina turns her attention to the victim's background looking for clues, but hits a dead end when she can't locate any of the woman's family. As a string of planted evidence and a murky collection of malicious characters starts to surface, Sabrina knows she and Hitchcock will have to tread carefully, before the library killer decides to check them out for good . . .
Includes delicious dessert recipes!
Praise for the Bad Luck Cat Mysteries:
"I loved every page of Black Cat Crossing, and I can't wait for a return visit to Lavender."
—Miranda James, New York Times bestselling author
"Black Cat Crossing has everything a cozy mystery reader could want—intrigue, memorable characters, a small-town setting, and even a few mouthwatering recipes . . . A purr-fectly cozy read."
—Ellery Adams, New York Times bestselling author
"Finch has, yet again, offered a great tale of female and feline that cozy readers will love."
—Suspense Magazine