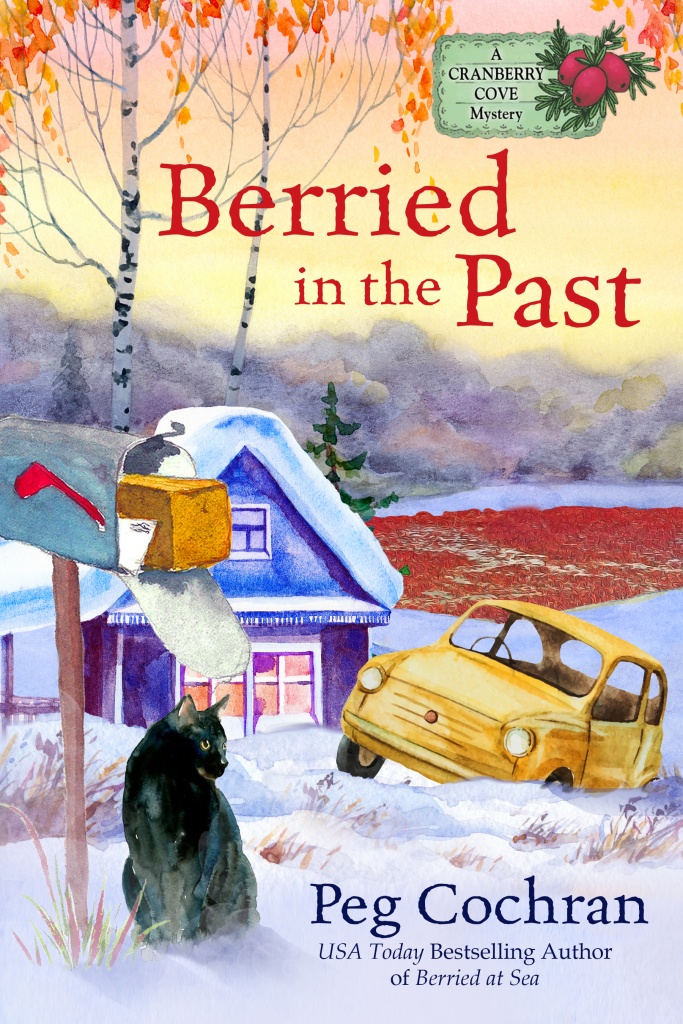 Berried in the Past, a new Cranberry Cove Mystery, is available now!
The dead of winter takes on a whole new meaning in the new Cranberry Cove Mystery from USA Today bestselling author Peg Cochran!
On a night of heavy snow and bitter cold, newlyweds Monica and Greg are comfortably nestled before a warm fire when they're roused by a late-night knock at the door. Surprised to find a troubled and confused woman on the doorstep, Monica is even more shocked when the woman vacantly utters that someone is trying to kill her. Sensing distress but not danger, Monica decides to help this mysterious woman, but her clouded recollections yield little—until she dredges up memories of her sister and a nearby home, where they find the woman's sister, dead.
Unable to deny her own curiosity or the woman's request for help, Monica begins digging into the suspicious death, only to discover a murky family history of valuable land, a bullying brother, an unscrupulous real estate developer, and endless rumors of good deeds met with bad blood. And when the trail of the killer begins to turn cold, Monica realizes that while the family wants to bury their sister, someone is out to bury the clues—and if Monica's not careful, to bury her as well . . .
Includes tasty recipes!
Praise for Berried Secrets:
"Cozy fans and foodies rejoice—there's a place just for you and it's called Cranberry Cove." —New York Times bestselling author Ellery Adams
"A fun whodunnit with quirky characters and a satisfying mystery. This new series is as sweet and sharp as the heroine's cranberry salsa." —New York Times bestselling author Sofie Kelly
About the Author:
Peg Cochran is the USA Today bestselling author of the Lucille Mysteries, the Gourmet De-Lite Mysteries, the Cranberry Cove Mysteries, and also, writing as Meg London, the Sweet Nothings Vintage Lingerie series. She has two daughters, a stepdaughter and stepson, a beautiful granddaughter, and a Westhighland white terrier named Reggie. You can read more at www.pegcochran.com and www.meglondon.com.