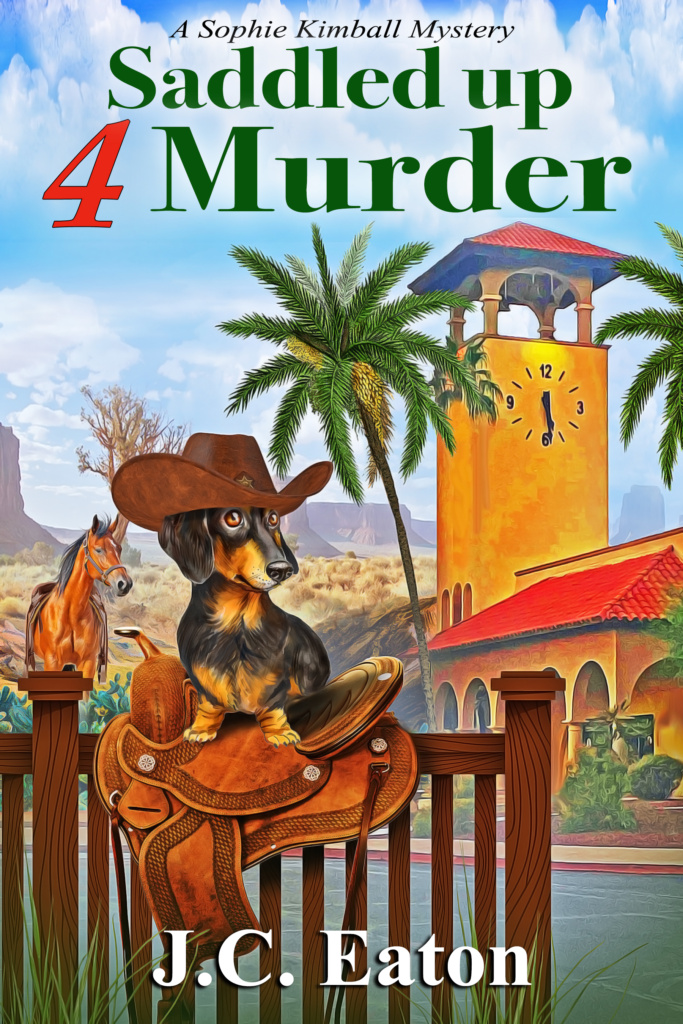 Saddled Up 4 Murder, a new Sophie Kimball Mystery by J. C. Eaton, is available now!
With a killer on the loose and horse thieves plaguing the area, it's up to Sophie "Phee" Kimball to corral the clues and bring an outlaw to justice . . .
Spring is in the air as Sun City West gears up for its annual Bye Bye Birdie festivities, when residents bid a fond farewell to the snowbirds and happily reclaim the town for themselves. But planning comes to a screeching halt when the town curmudgeon plummets to her death from the library bell tower and sheriff's deputies suspect foul play. With the celebration on hold—and Phee's mother worried that she won't get her moment in the spotlight on a local TV show slated to cover the event—Phee is thrust into the role of sleuth once again to find the killer.
As Phee soon discovers, there's no love lost between the town and the unfortunate victim, and with the clock ticking and virtually everyone a potential suspect, she's got her work cut out for her. Then a passel of horseflesh goes missing, and Phee starts to think the two crimes might be connected. With the town on edge and high noon approaching, she'll have to wrangle with a band of daring desperados and lasso a lawbreaker who's dead set on sending her to boot hill . . .
Praise for the Books of J. C. Eaton:
"Fun characters, a touch of humor, and a great mystery, the perfect combination for a cozy." —Lena Gregory, author of the Bay Island Psychic Mysteries on Ditched 4 Murder
"So cleverly written, you won't guess the perpetrators until the very end." —Mary Marks, award-winning author of the Quilting Mystery Series on Booked 4 Murder
"A thoroughly entertaining series debut, with enjoyable yet realistic characters and enough plot twists—and dead ends—to appeal from beginning to end." —Booklist, starred review, on Booked 4 Murder
"Enjoy this laugh-out-loud funny mystery that will make you scream for the authors to get busy on the next one." —Suspense Magazine on Molded 4 Murder
About the Author:
J. C. Eaton is the pen name of husband-and-wife writing team Ann I. Goldfarb and James E. Clapp. They are the authors of the Wine Trail Mysteries, the Sophie Kimball Mysteries, and the Marcie Rayner Mysteries. In addition, Ann has published nine YA time travel mysteries under her own name. You can learn more about Ann and Jim at jceatonmysteries.com, jceatonauthor.com, facebook.com/JCEatonauthor, and timetravelmysteries.com.