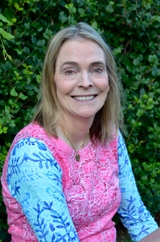 Devon Delaney
Devon Delaney is lifelong resident of the Northeast and currently resides in coastal Connecticut. She is a wife, mother of three, grandmother of two, accomplished cooking contestant and a recent empty nester. She taught computer education and Lego Robotics for over ten years prior to pursuing writing.
Devon has been handsomely rewarded for her recipe innovation over the last twenty-plus years. Among the many prizes she has won are a full kitchen of major appliances, five-figure top cash prizes, and four trips to Disney World. She won the grand prize in a national writing contest for her foodie poem "Ode to Pork Passion." Combining her beloved hobby of cooking contests with her enthusiasm for writing was inevitable.
When she's is not preparing for her next cook-off, Devon may be found pursuing her other hobbies, including playing competitive USTA league tennis, gardening, needlepointing, painting, jarring her produce and hooking rugs. Her standard poodle, Rocket, is her pride and joy and keeps her on the path of sanity.
You can learn more about Devon at www.devonpdelaney.com.