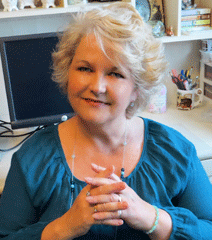 Donna Lea Simpson
Donna Lea Simpson is a nationally bestselling romance and mystery novelist with dozens of titles to her credit. An early love for the novels of Jane Austen and Agatha Christie was a portent of things to come; Donna believes that a dash of mystery adds piquancy to a romantic tale, and a hint of romance adds humanity to a mystery story. Besides writing romance and mystery novels and reading the same, Donna has a long list of passions: cats and tea, cooking and vintage cookware, cross-stitching and watercolor painting among them. Karaoke offers her the chance to warble Dionne Warwick tunes, and nature is a constant source of comfort and inspiration. A long walk is her favorite exercise, and a fruity merlot is her drink of choice when the tea is all gone. Donna lives in Canada.
The best writing advice, Donna believes, comes from the letters of Jane Austen. That author wrote, in an October 26, 1813, letter to her sister, Cassandra, "I am not at all in a humor for writing; I must write on till I am." So true! But Donna is usually in a good humor for writing!
You can learn more about me by visiting my website at donnaleasimpson.com.