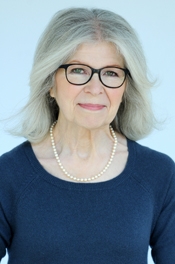 Judith Gonda
Judith Gonda is a mystery writer with a penchant for Pomeranians and puns, so it's no surprise they pop up in her amateur sleuth mysteries featuring landscape architect Tory Benning. As for the hot buttered lobster rolls, black tea, and California wine that also pepper her pages, they can be traced to her growing up in Connecticut, London, England, and the San Francisco Bay Area.
Trained as a Ph.D. psychologist, she taps the knowledge gained from her time spent conducting research at USC, heading a human resources department, and running focus groups as a jury consultant to inform her characters and plots.
She currently resides in Southern California with her architecture professor husband and her two rescue Poms/surrogate daughters. Her two human daughters, a landscape architect and a TV writer, live nearby. All, along with crime stories in the news, have inspired her books.
To learn more about her upcoming releases, please visit her website at judithgonda.com.