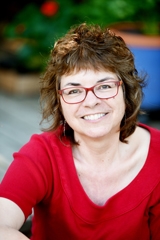 Leslie Budewitz
Leslie Budewitz is passionate about food, great mysteries, and her native Montana, the setting for her national-bestselling Food Lovers' Village Mysteries. She also writes the Spice Shop Mysteries, set in Seattle's Pike Place Market. As Alicia Beckman, she's the author of stand-alone suspense, beginning with Bitterroot Lake (2021). She's the proud owner of three Agatha Awards, for Best Nonfiction (2011), Best First Novel (2013), and Best Short Story (2018), and has won or been nominated for Derringer, Anthony, and Macavity awards. Also a practicing lawyer, Leslie is a board member of Mystery Writers of America and is a past president of Sisters in Crime.
Leslie loves to cook, eat, hike, travel, garden, and paint—not necessarily in that order. She lives in Northwest Montana with her husband, Don Beans, a doctor of natural medicine and musician, and their cat, an avid bird-watcher.
Visit her online at www.LeslieBudewitz.com, where you can find maps of the village and surrounding area, recipes, and more.