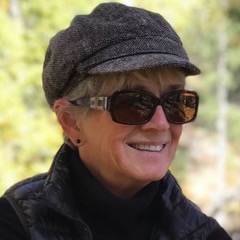 Kate Douglas
Kate Douglas is the author of the wildly popular erotic paranormal romance series Wolf Tales and Dream Catchers, as well as the DemonSlayers series. She is currently writing the next Chanku series, Spirit Wild.
A lifelong California resident, Kate started out writing radio copy for a country western radio station in 1972. After writing and illustrating an educational cartoon strip for the American Mosquito Control Association and working as a newspaper reporter for a small-town weekly, she wrote her first romance in the mid-1980s. In 2005 she signed with Kensington Publishing, and a year later they launched their Aphrodisia imprint with Kate's Wolf Tales.
Kate lives in in Georgetown, California—in the heart of California's Mother Lode—with her husband of almost fifty years. They have two adult children, six grandchildren, and two grand-dogs. Kate loves to hear from her readers, and her personal email can be found on the front of her website at katedouglas.com, along with the first chapters of her books.