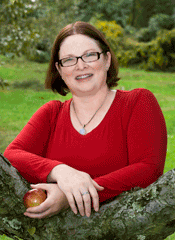 Sheila Connolly
New York Times bestselling author Sheila Connolly is the author of the Relatively Dead Mysteries, the Orchard Mysteries, the Museum Mysteries, and the County Cork Mysteries. She also published the Glassblower series under the pseudonym Sara Atwell.
A former art historian, investment banker, nonprofit fund-raiser, and genealogist, Sheila began writing in 2001 and is now a full-time writer. She wrote her first mystery series under the name Sarah Atwell, and the first book, Through a Glass, Deadly, was nominated for an Agatha Award for Best First Novel.
Sheila is a member of Sisters in Crime, Mystery Writers of America, and Romance Writers of America. She is a former President of Sisters in Crime New England, and was cochair for the 2011 New England Crime Bake conference. She currently lives in an overly large Victorian home in Massachusetts with her husband and three cats. She has lived in seven states, nineteen towns, and two foreign countries over the course of her life, and she loves to travel. Sheila is also passionate about genealogy and has a talent for fixing almost anything in an old house. Visit her website at sheilaconnolly.com, and check out her Sara Atwell titles at sarahatwellwriter.com.