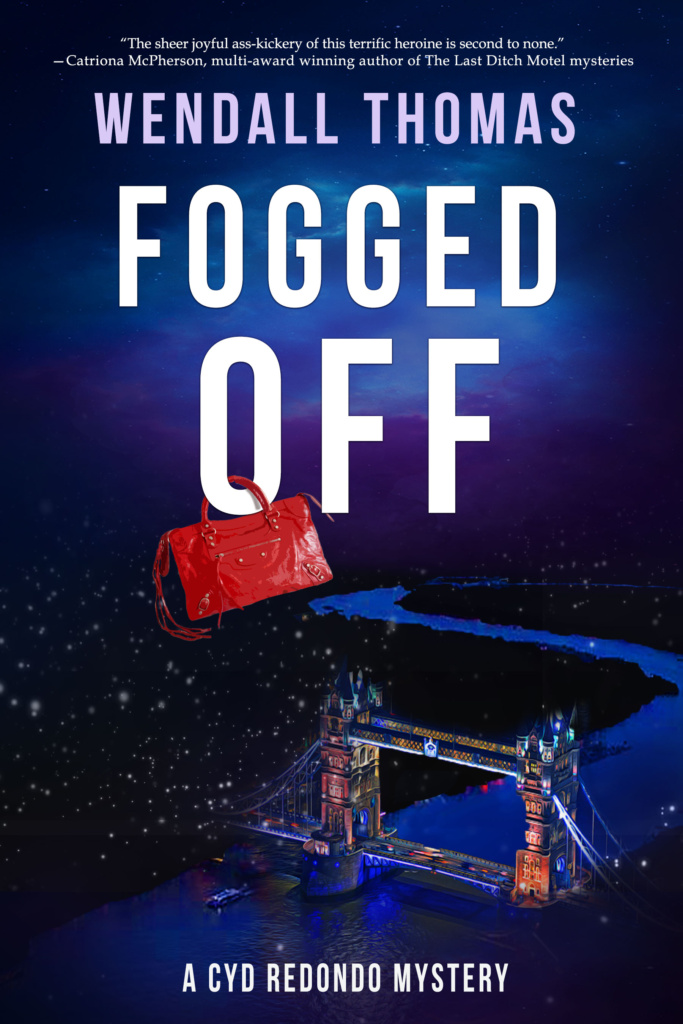 "The setting is old London Town, but the story is Wendall Thomas's trademark three-ring circus, with the redoubtable Cyd Redondo as ringmaster, high-wire walker, and—of course—animal wrangler. What a joy it is to follow the increasingly bonkers plot knowing that every last madcap thread is guaranteed to come together in the end. Fogged Off is what the world needs right now." —Catriona McPherson, multi-award winning author of The Last Ditch Motel mysteries
When travel agent Cyd Redondo's client and Jack the Ripper expert Shep Helnikov is found dead in London, she navigates the cutthroat worlds of research librarians, unemployed actors, rodent smugglers and more to find his killer and bring his body back home . . .
When her client and Jack the Ripper expert Shep Helnikov is found dead in London, travel agent Cyd Redondo is on the hook for thirty thousand dollars to return his body home. So when his university offers to cover the costs if she'll go in person to collect him—and his Ripper research—she jumps at the chance, even if it means bringing her wily uncle along. But no sooner does Cyd arrive in London than her client's death by natural causes starts to look most unnatural.
Cyd's only hope for recovering the body and vamoosing back to Brooklyn is to find the killer herself—but she's thwarted at every turn by Scotland Yard, Shep's former girlfriends, a sinister mortuary service, an old nemesis, and her taxidermist uncle himself. And when Shep's apartment is ransacked and a second Ripper expert is found murdered, Cyd knows she'll have to solve the crimes fast, before someone books her on a one-way trip to the morgue . . .
"Cyd's Balenciaga bag deserves to become as legendary as Sherlock Holmes's deerstalker and magnifying glass." —James W. Ziskin, Anthony, Barry, and Macavity Award-winning author of the Ellie Stone Mysteries
Praise for the Cyd Redondo Mysteries:
Lost Luggage
2018 Macavity Award nominee for Best First Novel
2018 Lefty Award nominee for Best Debut Mystery
"Thomas makes a rollicking debut with this comic mystery featuring an unconventional protagonist who proves to have the skills of MacGyver. With its sexy overtones, this fun, character-driven novel will appeal to Janet Evanovich fans." —Library Journal (starred review)
"Ms. Thomas has an absolutely lunatic talent for plot and one of the funniest first-person voices I've read in years . . . what kept coming to my mind as I read this were comedy films from the 30s—for me, the golden age of American film humor." —Timothy Hallinan, Lefty winner and Edgar and Macavity Award-nominated author of the Junior Bender and Poke Rafferty novels
"Laugh-out-loud funny and enchantingly ridiculous . . . highly entertaining . . ." —Jessica Howard, Shelf Awareness
Drowned Under
2020 Anthony Award nominee for Best Paperback Original
2020 Lefty Nominee for Best Humorous Mystery
"Fans of Janet Evanovich's Stephanie Plum will cotton to Cyd." —Publishers Weekly
"The passenger list in Wendall Thomas's Drowned Under is a cavalcade of randy former nuns, gigolos, stowaways, near-extinct marsupials . . . and one brilliantly sexy disaster of a globetrotting travel agent named Cyd Redondo . . . This is a remarkable novel in what is shaping up to be an exciting and hilarious series. You'll love Cyd, perhaps the funniest heroine out there. Highest recommendation." —James W. Ziskin, Anthony, Barry, and Macavity Award-winning author of the Ellie Stone Mysteries
"With her clever mind, tart comebacks, and Balenciaga tote bag, Cyd is a fearsome force. What a heroine for the modern age. Do not miss this!" —Daryl Wood Gerber, Agatha Award-winning national bestselling author of the Cookbook Nook and French Bistro Mysteries
"Drowned Under is laugh-out-loud funny. With its finely tuned timing and zany, emotional protagonist, this novel puts Thomas in a class with Carl Hiassen and Janet Evanovitch." —Nancy Tingley, Lefty-nominated author of the Jenna Murphy Mysteries
About the Author:
Wendall Thomas teaches in the Graduate Film School at UCLA, lectures internationally on screenwriting, and has worked as a film and television writer. Her first Cyd Redondo mystery, Lost Luggage,garnered Lefty and Macavity nominations for Best Debut, and Drowned Under was nominated for a Lefty for Best Humorous Mystery and an Anthony for Best Paperback Original. Her short fiction appears in LAdies Night, Last Resort, and Murder A-Go-Go's.