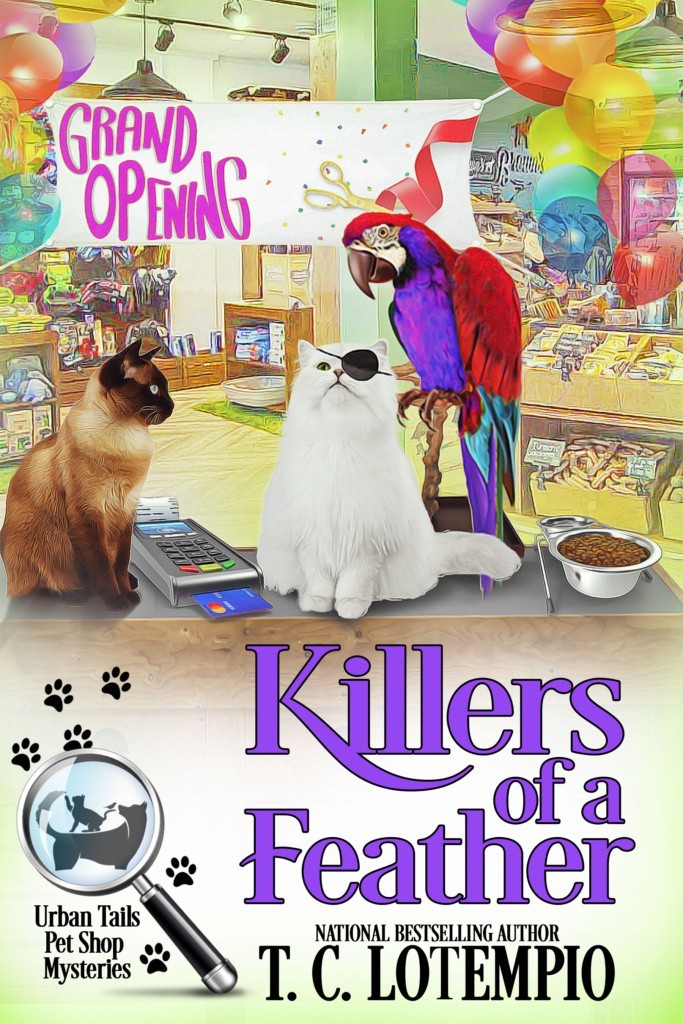 Shell McMillan and her feline friends must unravel a mystery where everyone's a suspect and no one's to blame . . .
With the grand re-opening of her Urban Tails Pet Shop just days away, Shell McMillan has her hands full planning entertainment for the festive event, including a fortune-telling parrot. But her jubilant mood is soon threatened by ominous rumors of the return of Johnny Draco, a former investment guru who swindled money from most of the residents of Fox Hollow and then vanished without a trace. And when the parrot predicts a dire future for Draco and his dead body is found just hours later, no one can say they're surprised—but no one will say who did it.
With virtually everyone in town a suspect, the police turn their focus on a good friend of Shell's who was seen arguing with the victim shortly before his death. Determined to clear her friend's name, Shell begins investigating Draco's past, his former employer, and everyone who lost money to him. And when the trail of clues suggests there may have been a completely different motive for the murder, Shell suddenly realizes she's uncovered a secret someone would kill to keep hidden—and that if she's not careful, the parrot may be predicting she has no future at all . . .
Praise for the Books of T. C. LoTempio:
"The author's suspenseful and startling reveal had me on the edge of my seat as I turned pages faster and faster until the final conclusion." —Cinnamon and Sugar and a Little Bit of Murder
"Meow-velous! The multiple murder mystery had the right amount of suspense . . . the thrill never quieted, culminating with a perilous conclusion. Totally enjoyable!" —Kings River Life
"Our two main characters really carried the story in such a way that will have you feeling as if you are right there with them . . . a fabulously fun read that is sure to be enjoyed by cozy fans. I totally loved it." —Books a Plenty Book Reviews
"A buoyant start to a new series . . . Fans of feline mysteries will relish The Time for Murder Is Meow's pet shop framework in this story of finding one's second act." —Foreword Reviews
"An entertaining series debut . . . Feline-loving cozy fans will be satisfied." —Publishers Weekly
About the Author:
T. C. LoTempio is the award-winning, nationally bestselling author of the Nick and Nora Mysteries, the Urban Tails Pet Shop Mysteries, and the Cat Rescue Mysteries. For more information, check out her and her cat Rocco's blog at www.catsbooksmorecats.blogspot.com and visit her website at www.tclotempio.net.