Posts Tagged 'dog mystery'
Fans of Marie Kondo and mysteries will love this series!
Professional organizer Charlotte Adams finds herself caught up in a very messy murder . . .
After freeing herself from a cheating fiancé and the other useless clutter in her life, Charlotte Adams moves back to her hometown in Upstate New York to make a fresh start as a professional organizer. But she's about to learn that foul play can creep into even the most well-ordered life.
Eager to get her new career started, Charlotte agrees to take on a job from the former high school teacher who filled all her students' lives with chaos and confusion. But no sooner does Charlotte begin digging through years of accumulated junk than she finds her first client dead—and herself named as the main suspect.
While any number of the victim's former students had a motive for murder, Charlotte knows that death is rarely that tidy, and she can't help meddling in the investigation to prove herself innocent and repair her sullied reputation. But the killer has a to-do list of their own, and the first item is to clean up a little mess named Charlotte Adams . . .
Organizing Tips Included!
Praise for the Books of Mary Jane Maffini:
"A comedic, murderous romp . . . Maffini is a relaxed, accomplished, and wickedly funny writer." —The Montreal Gazette
"Mary Jane Maffini provides a first-rate, well-organized whodunit . . . A new series that is fun to read." —Midwest Book Review
"Maffini's new series . . . is off to a brilliant start with this fast-paced mystery!" —Romantic Times
"Deserves top marks for creating an entertaining, fast-paced thriller filled with witty one-liners, snappy dialogue and crackling suspense." —The Strand Magazine
"I'll look forward to a long life for this series." —Deadly Pleasures
"Plenty of twists and turns that kept me turning the pages until the last sentence." —Dru's Book Musings
"Maffini is a relaxed, accomplished and wickedly funny writer . . ." —The Times Colonist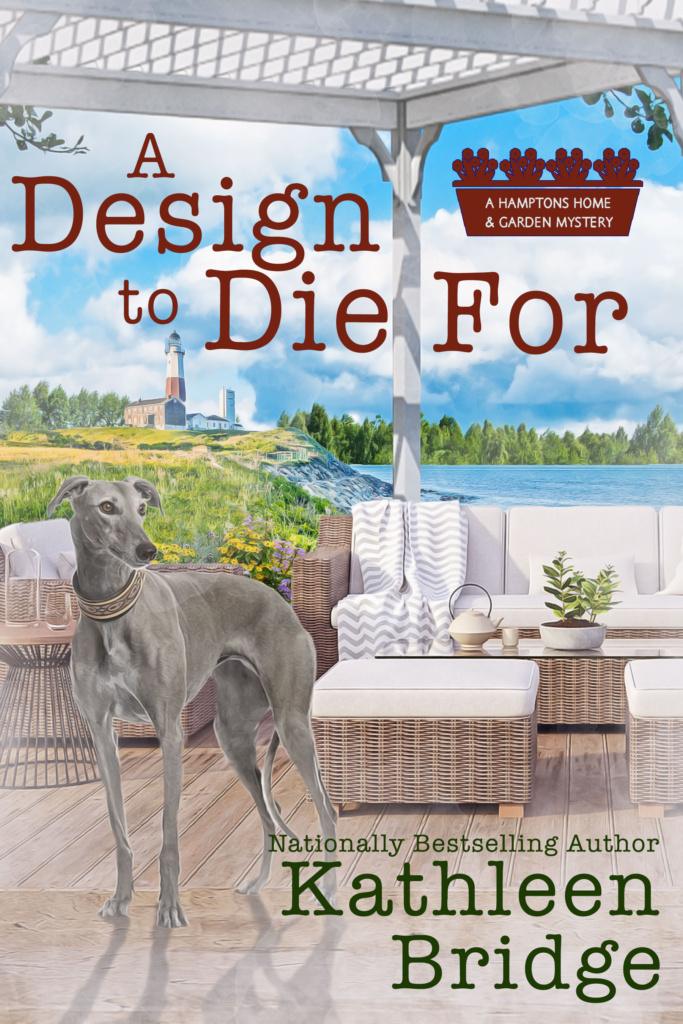 "Discerning cozy mystery fans who delight in well-developed characters, rich detail, and a smart plotline will find that Kathleen Bridge's A Design to Die For is their cup of tea!" —Ellery Adams, New York Times and USA Today Bestselling Author
Montauk's first annual Designer Showhouse was meant to be a collaborative event, so decorator Meg Barrett can only despair at the group of cutthroat designers scheming to sabotage each other on the project, not to mention the oddball collection of ghost hunters slinking around to investigate a supposedly haunted cottage. But when one of the owners of the showhouse is found murdered on the rocky beach below, Meg suddenly finds herself clashing with local police because of evidence that points to her as a prime suspect.
Desperate to clear her name and track down the real culprit, Meg discovers that many of her fellow designers despised the victim for his unscrupulous business dealings, while others were speculating about his extramarital affairs. And as more secrets emerge about both the deceased and the many outsiders who have come together for the showhouse, Meg realizes she'll have to decipher a murky pattern of clues to escape the killer's deadly designs on her . . .
Includes scrumptious recipes and vintage decorating tips!
Praise for the Hamptons Home & Garden Mysteries:
"A delightful sneak peek into life in the Hamptons, with intricate plotting and a likeable, down-to-earth protagonist. A promising start to a promising series." —Suspense Magazine on Better Homes and Corpses
"An excellent read." —RT Book Reviews on Hearse and Gardens
"Ghostal Living is a marvelously entertaining tale of revenge, murder, quirky characters—and disappearing books! With a clever protagonist, wonderful details of life in the Hamptons, and plot twists on top of plot twists, Kathleen Bridge will have mystery readers clamoring for more." —Kate Carlisle, New York Times bestselling author
About the Author
Kathleen Bridge is the national bestselling author of the Hamptons Home & Garden Mystery series and the By the Sea Mystery series. A member of Sisters in Crime and Mystery Writers of America, she is also the author and photographer of an antiques reference guide, Lithographed Paper Toys, Books, and Games. Kathleen teaches creative writing in addition to working as an antiques and vintage dealer, and blissfully lives on a barrier island in Florida. Readers can visit her on the web at www.kathleenbridge.com.