Fans of Marie Kondo and mysteries will love this series!
Professional organizer Charlotte Adams finds herself caught up in a very messy murder . . .
After freeing herself from a cheating fiancé and the other useless clutter in her life, Charlotte Adams moves back to her hometown in Upstate New York to make a fresh start as a professional organizer. But she's about to learn that foul play can creep into even the most well-ordered life.
Eager to get her new career started, Charlotte agrees to take on a job from the former high school teacher who filled all her students' lives with chaos and confusion. But no sooner does Charlotte begin digging through years of accumulated junk than she finds her first client dead—and herself named as the main suspect.
While any number of the victim's former students had a motive for murder, Charlotte knows that death is rarely that tidy, and she can't help meddling in the investigation to prove herself innocent and repair her sullied reputation. But the killer has a to-do list of their own, and the first item is to clean up a little mess named Charlotte Adams . . .
Organizing Tips Included!
Praise for the Books of Mary Jane Maffini:
"A comedic, murderous romp . . . Maffini is a relaxed, accomplished, and wickedly funny writer." —The Montreal Gazette
"Mary Jane Maffini provides a first-rate, well-organized whodunit . . . A new series that is fun to read." —Midwest Book Review
"Maffini's new series . . . is off to a brilliant start with this fast-paced mystery!" —Romantic Times
"Deserves top marks for creating an entertaining, fast-paced thriller filled with witty one-liners, snappy dialogue and crackling suspense." —The Strand Magazine
"I'll look forward to a long life for this series." —Deadly Pleasures
"Plenty of twists and turns that kept me turning the pages until the last sentence." —Dru's Book Musings
"Maffini is a relaxed, accomplished and wickedly funny writer . . ." —The Times Colonist
Welcome back to Hope Street Church, where friendships are formed, fresh starts are encouraged, and mysteries are solved . . .
It's June in Virginia, and the scent of flowers and the sound of wedding bells are in the air, an unwelcome reminder to Cooper Lee of the long-distance relationship she recently ended. When Cooper and her Bible study group are invited to spend a weekend at a newly renovated historic inn, it's the perfect chance to get away with friends and put her bittersweet memories behind her—until the inn's pompous co-owner is murdered and one of the suspects is Cooper's own mother.
Certain that someone on the inn's staff must have done the cruel deed, the Bible study group begins piecing together the clues, only to learn that everyone there has a motive for murder. When they discover that a valuable painting has also been stolen from the inn, they know they're up against an especially cunning evildoer. Determined to bring the culprit to justice and save her mother, Cooper and her friends devise a risky scheme to trap the killer, because even the Bible study group must sometimes work in mysterious ways . . .
Includes heavenly recipes from Magnolia Lee's kitchen!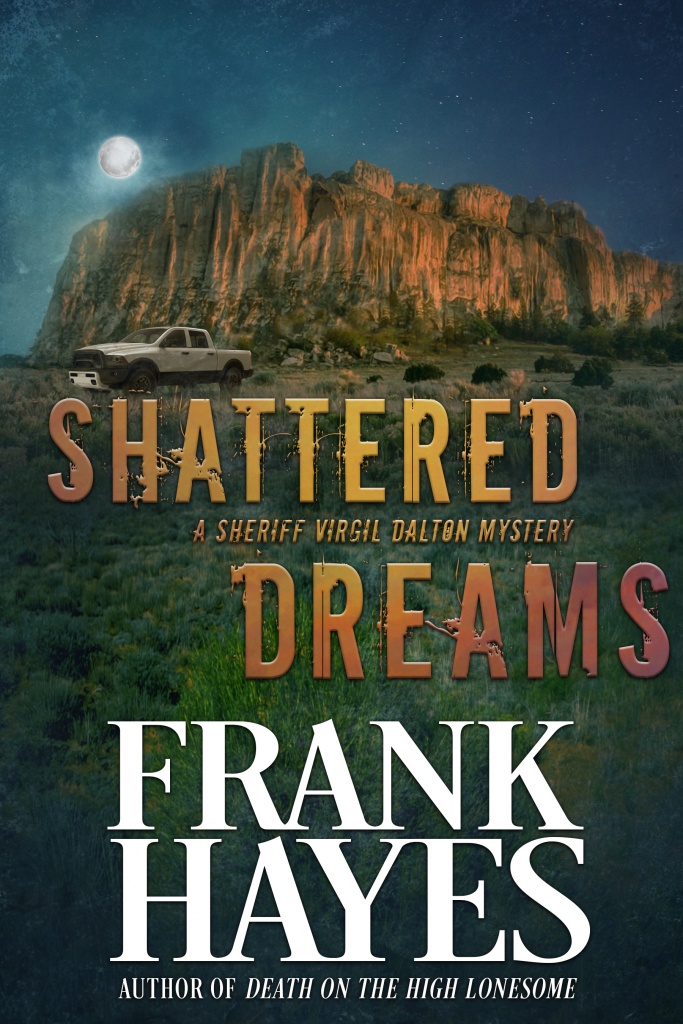 In the tradition of No Country for Old Men, Shattered Dreams is a story about the ties that bind us to the land and each other, about changing times, and about the forces that can tear us apart.
When he's called to the scene of a burnt-out trailer in a remote corner of the southwest, Sheriff Virgil Dalton finds a body charred beyond recognition and the telltale signs of a meth lab gone wrong. But he also sees enough evidence to convince him there was foul play, and before long he and his deputies are searching the vast desert landscape to discover who was behind it.
When word of another fatality reaches Virgil, he learns of a supposedly accidental death that seems like anything but, and the pattern emerging tells Virgil he's dealing with a killer who will go to great lengths to cover his tracks. With signs pointing to the possible involvement of a local company that is growing by leaps and bounds and changing his beloved landscape faster than he can keep track of, Virgil knows he's headed for a high-stakes confrontation that will force him to put himself and everything he holds dear at risk . . .
Praise for Death at the Black Bull:
"Move over, Walt Longmire. There's a new sheriff in town. Virgil Dalton is the kind of character that comes along maybe once a decade—a classic Western hero and so much more. When you're done with Frank Hayes' stellar debut, Death at the Black Bull, you'll smell the sagebrush in the air and have to clean the dust off your boots. An absolute must-read for fans of Craig Johnson and Tony Hillerman." —Reed Farrel Coleman, Shamus Award–winning author of The Hollow Girl
"This is one of the most impressive debut crime novels I've ever read. There's such depth and humanity in the characters, such tension in the story itself, and the sense of place is as good as it gets. I know I'll be reading every book in this series!"—Steve Hamilton, Edgar Award–winning author of Let It Burn
"Virgil Dalton takes no prisoners in Hayes's satisfying debut novel, and fans of Craig Johnson's Walt Longmire will cheer the sheriff's desire to protect his town. With its strong sense of place, this series launch will also keep fans of Western mysteries enthralled." —Library Journal
"Hayes's strong debut introduces a complex and likable lawman . . . readers will want to see a lot more of Virgil and friends." —Publishers Weekly
"Hayes is a skillful storyteller and a deft hand at witty dialogue." —Booklist
About the Author:
Frank Hayes is a high school teacher who has started a new career as a novelist. He lives and writes in New York's mid-Hudson River Valley. He is the author of three Sheriff Virgil Dalton Mysteries, Death at the Black Bull, Death on the High Lonesome, and Shattered Dreams.