When a scavenger hunt turns up a dead body, dog walker Andi Grace Scott will have to make a dogged effort to collar the culprit . . .
Setting out for a day of fun on her town's first-ever scavenger hunt, Low Country dog walker Andi Grace Scott is dismayed to find an unattended dog wandering the streets—but that's nothing compared to the shock she gets when she finds a dead man floating in the swimming pool of the dog's owner. What's more, she'd seen the very same man having a very public altercation with his wife just the night before. Despite being warned off the case by the local sheriff, Andi Grace can't help nosing around to find out who's behind the foul deed.
It turns out the victim was a well-known radio personality who focused on cold-case investigations and was rumored to be breaking a huge story on his next show. As Andi Grace digs deeper to learn who may have wanted him dead, she's faced with a suspect list that includes a cold-hearted widow who stands to inherit a bundle, a local country star with family demons to hide, and any number of unknown criminals who may have been the focus of the victim's big reveal. Whether the motive was love gone bad, a career under duress, or a killer's deadly secret, Andi Grace knows she'll have to act fast before she becomes the next cold case herself . . .
Praise for the Books of Jackie Layton
"Andi Grace is adorable, resilient, and has a doggedly curious need to solve a murder. A pleasure to read." —C. Hope Clark, award-winning author of Edisto Tidings
"Completely charming—and exactly what a cozy mystery should be. Amateur sleuth (and dog whisperer) Andi Grace Scott is wonderfully endearing, and her devotion to her pooches—and to justice—will have you rooting for her from the absolutely irresistible page one. Bow wow—What a terrific debut!" —Hank Phillippi Ryan, nationally best-selling and award-winning author of The Murder List
"I promptly fell head over heels for this cast of characters, and the dogs burrowed quickly into my heart. The plot of Bite the Dust was intriguing and complex, with plenty of surprising twists and turns. What impressed me the most, though, was the warm tone of the author's writing voice . . . you just want to snuggle in and keep reading." —MeezCarrie
About the Author:
Former Kentuckian Jackie Layton loves her new life in the Low Country. She enjoys time on the beach, despite one vacation that ended with cracked ribs from riding her boogie board with the kids and another trip that ended with a fish hook in her foot and a trip to the emergency room. There's nothing like time at the beach, although she tends to be a bit more cautious these days. Jackie is the author of four Low Country Dog Walker Mysteries, including Bite the Dust, Dog-Gone Dead, Bag of Bones, and Caught and Collared.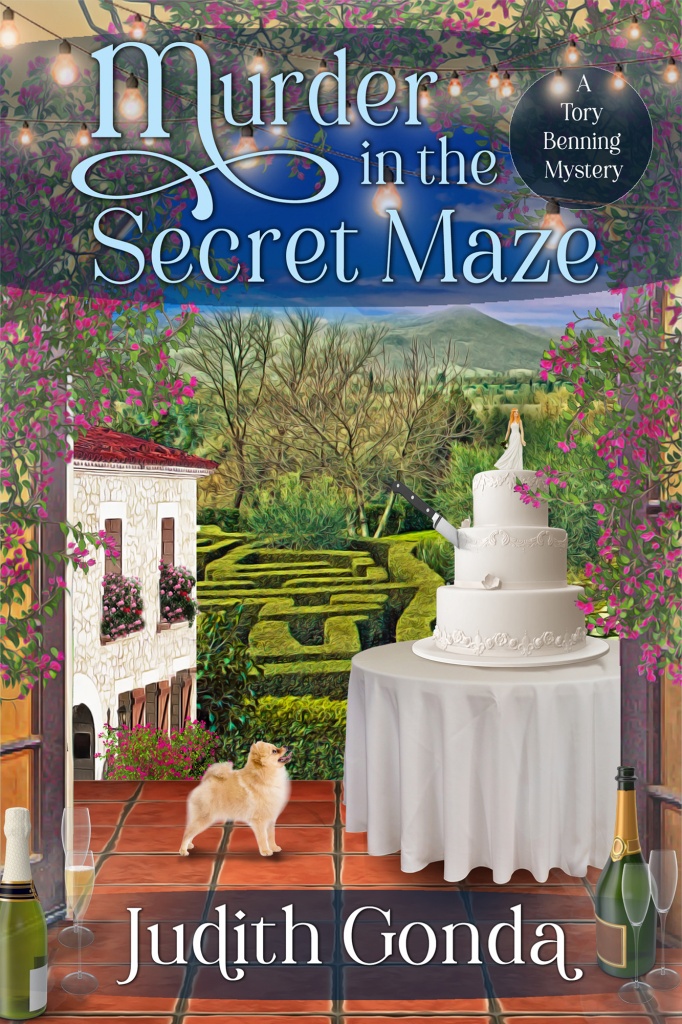 Landscape architect Tory Benning knows the lay of the land, but she'll have to dig through the clues to unearth a killer . . .
After a whirlwind romance and a glorious wedding at the luxurious Hotel Santa Sofia, Tory Benning is ready to let down her hair, slip into her dancing shoes, and celebrate—until she discovers that her newly minted husband has vanished. The police suspect cold feet and second thoughts are behind Milo's disappearance, but Tory's certain he's met with foul play. And since she designed the plush resort, she knows every nook and cranny of the grounds and adjoining secret maze, and wastes no time delving into her search.
As clues begin to emerge that Milo may have taken his last breath in the maze, Tory steps up her sleuthing, even as she learns she's the prime suspect of a cop with a chip on his shoulder and is squarely in the sights of a menacing stalker. And when a second body is found on the grounds, Tory fears she's up against a killer determined to silence any and all who get in the way.
Not to be deterred, Tory forges ahead, navigating a case with more twists and turns than the maze itself, until the labyrinth of clues leads her to shocking revelations about her husband, her family, and the identity of a killer who's dead set on making her the next victim . . .