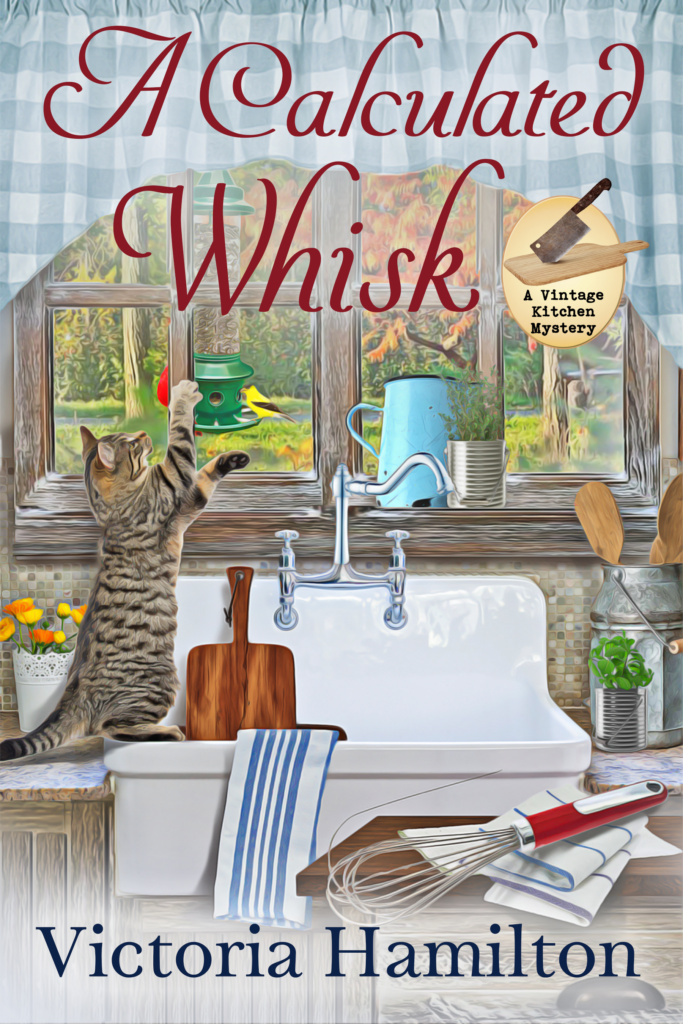 In the new Vintage Kitchen Mystery from the author of Cast Iron Alibi, Jaymie Leighton is confronted with two murders and the threat of danger far too close to home . . .
When a woman living under a cloud of suspicion for her husband's death comes to vintage kitchen collector Jaymie Leighton with a mysterious request, she's not sure whether, or how much, to get involved. The police believe they have new evidence of foul play in what was initially ruled an accidental death, and the woman's terrified they'll try to pin the crime on her. Before Jaymie can decide whether to help her, though, the woman's found murdered in the woods near Jaymie's cabin.
Still unsure whether the woman was truly innocent in her husband's death, Jaymie decides to get to the bottom of both murders. But as she digs deeper into the couple's past and discovers a tangled array of long-buried wounds and family secrets, Jaymie begins to sense that danger is still lurking in the woods near her home. With a killer on the loose and her family in danger, Jaymie must uncover the culprit before she loses all she holds dear, including her own life . . .
Includes a vintage recipe!
Praise for the Vintage Kitchen Mysteries:
"All the right ingredients . . . Small-town setting, kitchen antiques . . . and a bowlful of mystery. A perfect recipe." —New York Times bestselling author Susan Wittig Albert
"[A] charming series." —New York Times bestselling author Sheila Connolly
"I have loved this series from the first book . . . it's like returning to a favorite nook for a cup of tea. It will delight, entice, and drive a reader to want to solve the murder." —Goodreads on No Grater Danger
"A chilling whodunit." —Richmond Times-Dispatch
"Well-plotted with several unexpected twists and more developed characters." —The Mystery Reader
"Jaymie is a great character . . . She is inquisitive and full of surprises!" —Debbie's Book Bag
About the Author:
Victoria Hamilton is the pseudonym of nationally bestselling romance author Donna Lea Simpson. Victoria is the bestselling author of three mystery series, the Lady Anne Addison Mysteries, the Vintage Kitchen Mysteries, and the Merry Muffin Mysteries. She also writes a Regency-set historical mystery series, starting with A Gentlewoman's Guide to Murder. Visit her website at victoriahamiltonmysteries.com.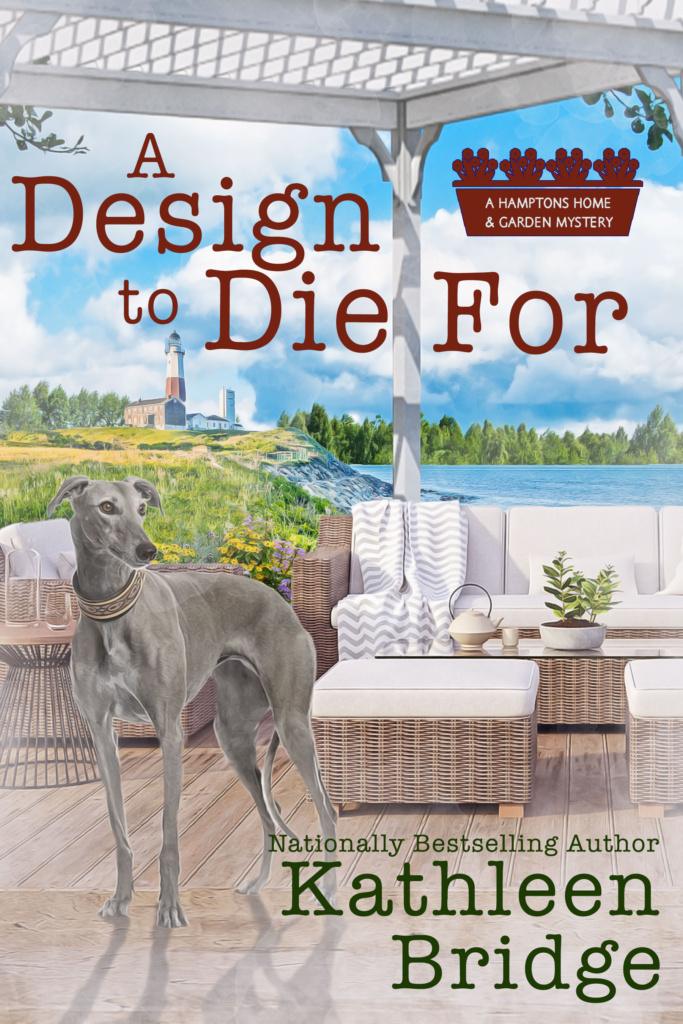 "Discerning cozy mystery fans who delight in well-developed characters, rich detail, and a smart plotline will find that Kathleen Bridge's A Design to Die For is their cup of tea!" —Ellery Adams, New York Times and USA Today Bestselling Author
Montauk's first annual Designer Showhouse was meant to be a collaborative event, so decorator Meg Barrett can only despair at the group of cutthroat designers scheming to sabotage each other on the project, not to mention the oddball collection of ghost hunters slinking around to investigate a supposedly haunted cottage. But when one of the owners of the showhouse is found murdered on the rocky beach below, Meg suddenly finds herself clashing with local police because of evidence that points to her as a prime suspect.
Desperate to clear her name and track down the real culprit, Meg discovers that many of her fellow designers despised the victim for his unscrupulous business dealings, while others were speculating about his extramarital affairs. And as more secrets emerge about both the deceased and the many outsiders who have come together for the showhouse, Meg realizes she'll have to decipher a murky pattern of clues to escape the killer's deadly designs on her . . .
Includes scrumptious recipes and vintage decorating tips!
Praise for the Hamptons Home & Garden Mysteries:
"A delightful sneak peek into life in the Hamptons, with intricate plotting and a likeable, down-to-earth protagonist. A promising start to a promising series." —Suspense Magazine on Better Homes and Corpses
"An excellent read." —RT Book Reviews on Hearse and Gardens
"Ghostal Living is a marvelously entertaining tale of revenge, murder, quirky characters—and disappearing books! With a clever protagonist, wonderful details of life in the Hamptons, and plot twists on top of plot twists, Kathleen Bridge will have mystery readers clamoring for more." —Kate Carlisle, New York Times bestselling author
About the Author
Kathleen Bridge is the national bestselling author of the Hamptons Home & Garden Mystery series and the By the Sea Mystery series. A member of Sisters in Crime and Mystery Writers of America, she is also the author and photographer of an antiques reference guide, Lithographed Paper Toys, Books, and Games. Kathleen teaches creative writing in addition to working as an antiques and vintage dealer, and blissfully lives on a barrier island in Florida. Readers can visit her on the web at www.kathleenbridge.com.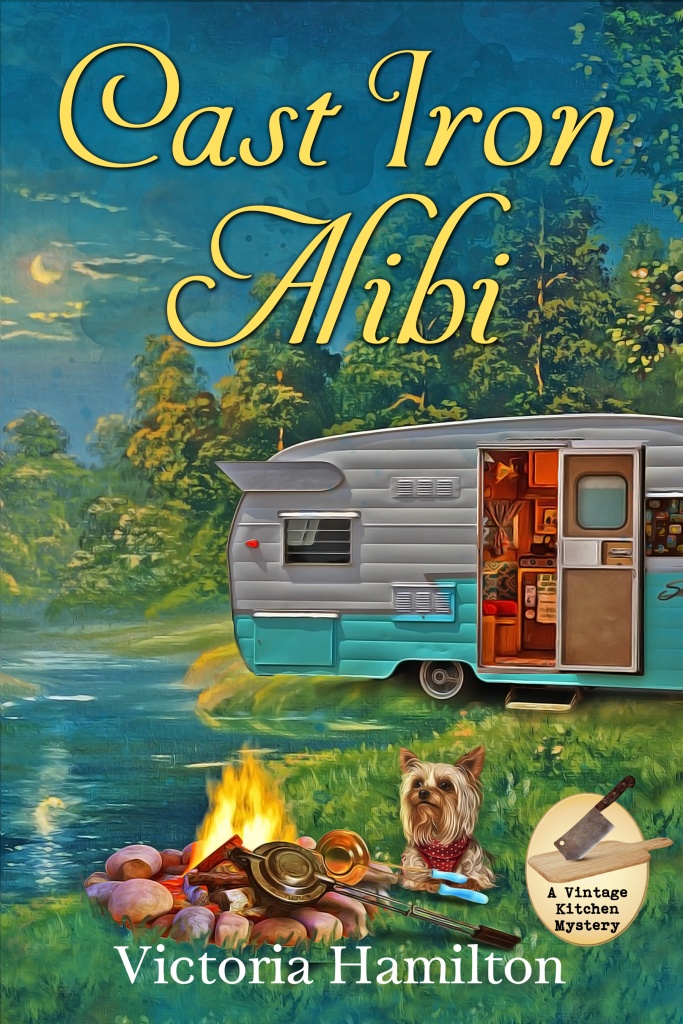 In the new Vintage Kitchen Mystery from the author of Breaking the Mould, when an over-amorous handyman is found murdered, Jaymie will have to use every tool at her disposal to nab the culprit . . .
"I have loved this series from the first book . . . it's like returning to a favorite nook for a cup of tea. It will delight, entice, and drive a reader to want to solve the murder." —Goodreads on No Grater Danger
Looking forward to her girls-only college reunion vacation, Jaymie's on cloud nine at the idea of lazy trips to the beach, dinner cruises on the nearby river, and snug sleeping in the vintage trailer she's renovated. But no sooner does the group reconnect than her hopes turn to tension as petty squabbles and old acrimonies surface, along with tagalong friends, unexpected guests, and stalkerish ex-husbands. And when a local toolbelt Romeo with an eye for one of the women is found murdered, his home ablaze, the simmering hostility in the group suddenly shifts to secrecy.
Local law enforcement is zeroing in on the victim's best friend and girlfriend as the most likely suspects, but Jaymie's inquisitive instincts are telling her one of her former classmates may have been involved in the foul deed. Forced to navigate her fraught relationship with a local police detective and determined to uncover the myriad secrets her college friends are hiding, Jaymie knows she'll have to dig deep to figure out whose alibi is cast iron, and whose is flimsy as tin . . .
Includes a vintage recipe!