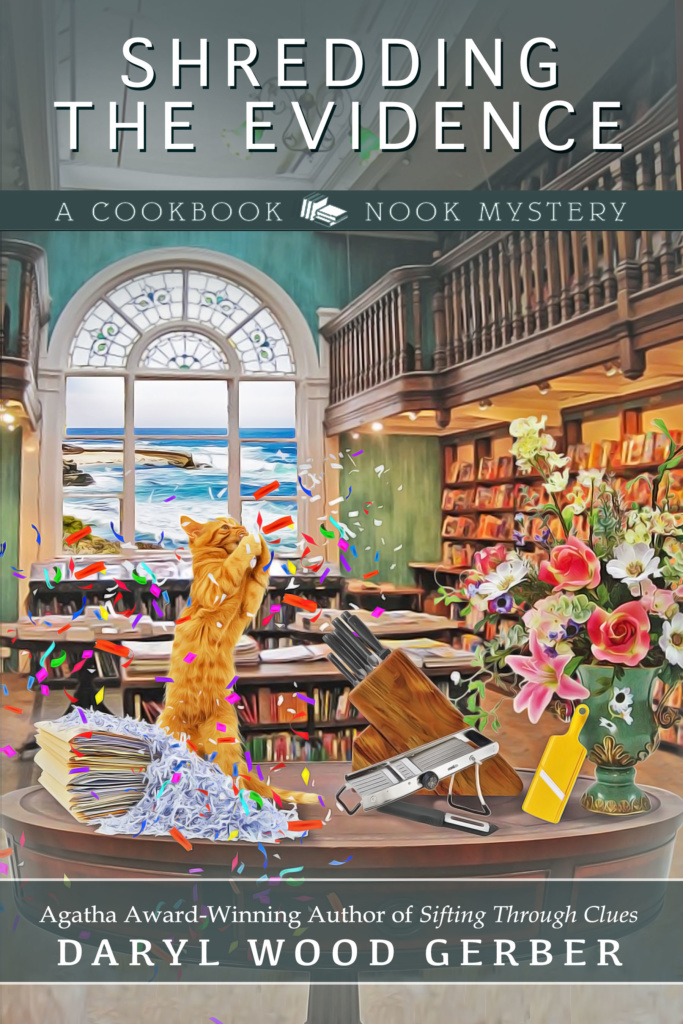 The Agatha Award–winning author of Sifting Through Clues returns to the Cookbook Nook, where a combative food reporter gets her just deserts . . .
The denizens of Crystal Cove are salivating over the upcoming Food Bowl Week, when local chefs offer some of their best and most imaginative creations in bite-size portions all over town. Bookstore proprietor Jenna Hart is hungry to sample as many of the delicacies as she can, but when she stumbles onto the dead body of a local food reporter and learns that her best friend's husband is the primary suspect, she'll have to summon the appetite for a side dish of sleuthing to prove his innocence.
Jenna knows the ambitious and aggressive reporter, who was strangled at a fitness center with her shredded restaurant reviews scattered around her, left behind a long list of potential suspects. As she begins piecing together the scant clues, she uncovers illicit ties between the victim and a local newspaper owner, a spurned would-be lover, and a host of disgruntled restaurant owners not a bit torn up by the critical reporter's demise. And with a solution so close she can almost taste it, Jenna turns up the heat on the culprit, realizing too late that she's the next course on the murderer's menu . . .
Includes tasty recipes!
Praise for Daryl Wood Gerber and the Cookbook Nook Mysteries:
"There's a feisty new amateur sleuth in town and her name is Jenna Hart. With a bodacious cast of characters, a wrenching murder, and a collection of cookbooks to die for, Daryl Wood Gerber's Final Sentence is a page-turning puzzler of a mystery that I could not put down." —Jenn McKinlay, New York Times bestselling author of the Cupcake Mysteries and Library Lovers Mysteries
"In Final Sentence, the author smartly blends crime, recipes, and an array of cookbooks that all should covet in a witty, well-plotted whodunit." —Kate Carlisle, New York Times bestselling author of the Bibliophile Mysteries
"Readers will relish the extensive cookbook suggestions, the cooking primer, and the whole foodie phenomenon. Gerber's perky tone with a multigenerational cast makes this series a good match for Lorna Barrett's Booktown Mystery series . . ." —Library Journal
"So pull out your cowboy boots and settle in for a delightful read. Grilling the Subject is a delicious new mystery that will leave you hungry for more." —Carstairs Considers Blog
About the Author: Agatha Award–winning and nationally bestselling author Daryl Wood Gerber is the author of the Cookbook Nook Mysteries, the French Bistro Mysteries, the Cheese Shop Mysteries (as Avery Aames), the Aspen Adams Novels of Suspense, and two other stand-alone suspense thrillers. Little known facts about Daryl are that she's jumped out of a perfectly good airplane, has hitchhiked around Ireland by herself, and has appeared on an episode of Murder, She Wrote.She loves to read, cook, and golf, and has a frisky Goldendoodle named Sparky who keeps her in line!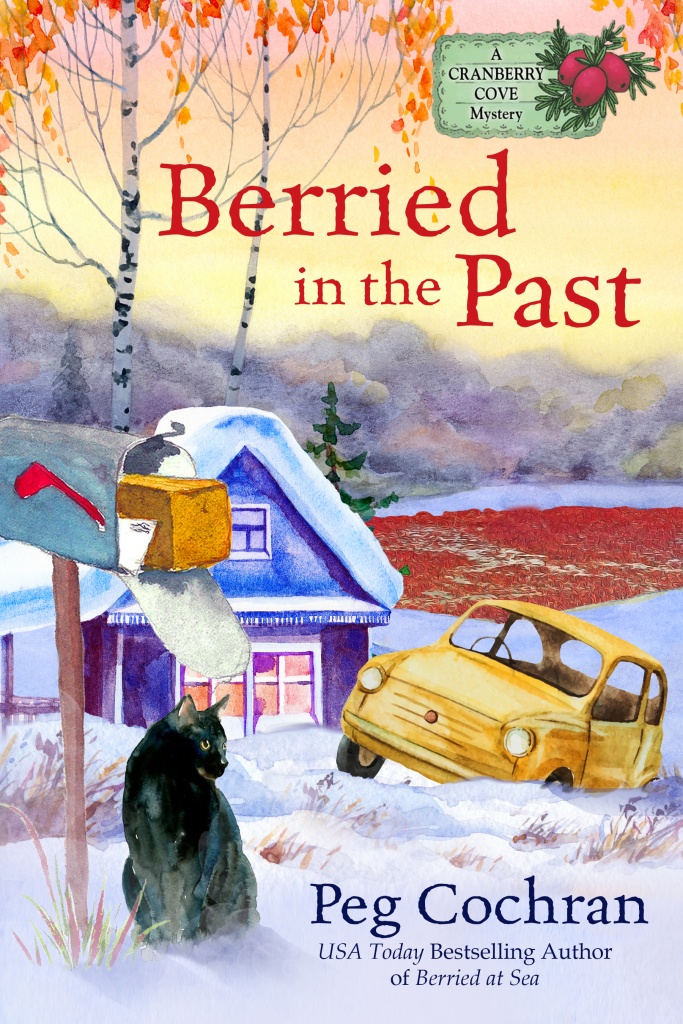 The dead of winter takes on a whole new meaning in the new Cranberry Cove Mystery from USA Today bestselling author Peg Cochran!
On a night of heavy snow and bitter cold, newlyweds Monica and Greg are comfortably nestled before a warm fire when they're roused by a late-night knock at the door. Surprised to find a troubled and confused woman on the doorstep, Monica is even more shocked when the woman vacantly utters that someone is trying to kill her. Sensing distress but not danger, Monica decides to help this mysterious woman, but her clouded recollections yield little—until she dredges up memories of her sister and a nearby home, where they find the woman's sister, dead.
Unable to deny her own curiosity or the woman's request for help, Monica begins digging into the suspicious death, only to discover a murky family history of valuable land, a bullying brother, an unscrupulous real estate developer, and endless rumors of good deeds met with bad blood. And when the trail of the killer begins to turn cold, Monica realizes that while the family wants to bury their sister, someone is out to bury the clues—and if Monica's not careful, to bury her as well . . .
Includes tasty recipes!
Praise for Berried Secrets:
"Cozy fans and foodies rejoice—there's a place just for you and it's called Cranberry Cove." —New York Times bestselling author Ellery Adams
"A fun whodunnit with quirky characters and a satisfying mystery. This new series is as sweet and sharp as the heroine's cranberry salsa." —New York Times bestselling author Sofie Kelly
About the Author:
Peg Cochran is the USA Today bestselling author of the Lucille Mysteries, the Gourmet De-Lite Mysteries, the Cranberry Cove Mysteries, and also, writing as Meg London, the Sweet Nothings Vintage Lingerie series. She has two daughters, a stepdaughter and stepson, a beautiful granddaughter, and a Westhighland white terrier named Reggie. You can read more at www.pegcochran.com and www.meglondon.com.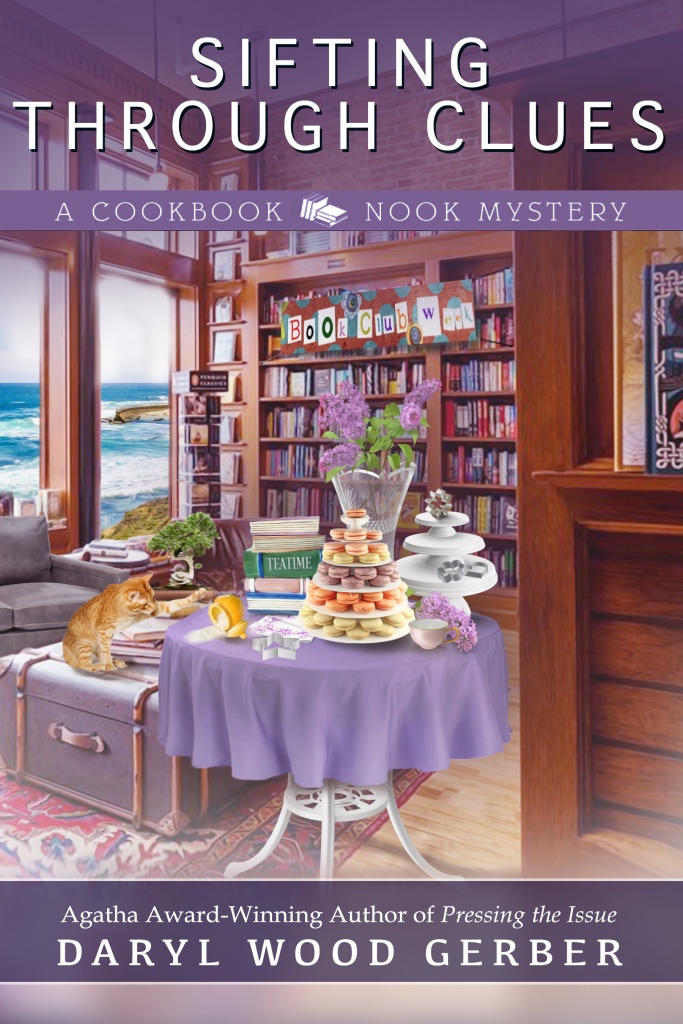 The Agatha Award–winning author of Wreath Between the Lines returns to the Cookbook Nook, where culinary mysteries are giving everyone food for thought . . .
Book clubs from all over have descended on Crystal Cove to celebrate the library's Book Club Bonanza week, and Jenna Hart has packed the Cookbook Nook with juicy reads and tasty cookbooks. But she's most excited about spending an evening with the Mystery Mavens and their moveable feast, when they will go from house to house to share different culinary treats and discuss the whodunit they're all reading. It's all good food and fun for the savvy armchair detectives, until one of the members of the group is found murdered at the last stop on the tour.
As if that weren't enough to spoil her appetite, Jenna discovers that all the evidence points to her friend Pepper as being the guilty party. And with Pepper's chief-of-police daughter too close to the case to be impartial, Jenna knows she'll have to step in to help clear her friend's name before a bitter injustice sends her to jail. Sifting through the clues, Jenna unearths any number of possible culprits, but she'll have to cook up a new way to catch the killer before Pepper's goose is cooked . . .
Includes tasty sweet and savory recipes!